4.20: The Ultimate CBD Guide
It's time to relax into 4.20! The team at Swagger Magazine have rounded up the best and most innovative CBD products on the market. Whether you need items that will help you relax, unwind, or recover – Swagger Magazine has you covered.
Ananda Hemp
From the first company to plant legal hemp in over 40 years, Ananda Hemp brings you the only true full spectrum, seed-to-shelf vertically integrated, third-party lab tested, 100% made in America CBD Oil. This is not your grandma's cannabidiol.
Extracted in the industry's first and only LEED Platinum+, cGMP facility (less than 20 miles from the hemp fields) utilizing proprietary technology, Ananda's process boasts the unique ability to maintain the cannabinoid ratio as it exists in hemp – not to mention hundreds of other potent phytonutrients.
Among these nutrients are amino and essential fatty acids, polyphenols, antioxidants, vitamins, minerals, and terpenes. Also present are Cannflavin A and B – shown in clinical research to offer 30x the potency of aspirin for inflammation relief.
Ananda's distinctive approach to CBD results in a highly efficacious, ultra-potent formula trusted by thousands. Ananda Professional (sister company to Ananda Hemp) is the #1 brand trusted by pharmacists nationwide. If it's good enough for pharmacists, it's good enough for us.
Certificates of Analysis are readily available on Ananda's site, viewable by typing in the batch number on the back of each bottle in their COA lookup tool. With routine checks for hundreds of contaminants, Ananda vaunts the most rigorous and extensive laboratory testing profile we've seen.
Buy now
Simply Owl Natural Recovery Gel
Hit the gym too hard? Simply Owl Natural Recovery gel has your back (and arms and legs). Crafted with CBD, magnesium, menthol, and Beta Caryophyllene, Recovery Gel combines four key ingredients to deliver maximum relief in a non-greasy formula.
Low magnesium levels can cause cramps and a build-up of lactic acid, a major cause of post-workout muscle pain. Recovery Gel works to restore those magnesium levels. Meanwhile, menthol delivers a cooling sensation for instant relief. Beta Caryophyllene is a proven anti-inflammatory that has also been shown to reduce the perception of pain.
CBD Tinctures deliver a targeted response to pain and inflammation. CBD helps regulate the endocannabinoid system, which can help the body maintain balance amid different stressors. Sourced from small farms in Kentucky, the CBD in Simply Owl Natural products is 100 percent organically grown.
For almost half a decade, Simply Owl Natural has produced a full spectrum of wellness products, including CBD. Simply Owl Natural doesn't just slap "CBD" in a bold font on a label. Long-time customers can point a finger at exactly what makes Simply Owl Natural products different:
Simply Owl Natural offers terpene infusion of CBD oils. Mimicking certain strains of cannabis, each blend captures the benefits of these strains for specific purposes, all without the psychoactive effects of cannabis.

Decarboxylation is not a part of the process. This helps preserve CBDa in the oil. Promising research has brought to light the possibility of CBDa's anti-inflammatory capability.

Simply Owl Natural holds higher standards and ethical practices for product quality, including third-party testing for purity and potency.
Buy now
The Medicine Man
The Medicine Man is a San Diego-based company that offers Pure CBD Oil Products proven highly effective to help heal, reduce, or stabilize pain and various other medical conditions. The founder of The Medicine Man, Eric Porter, established the company after learning about the usefulness of CBD in his own journey to find natural pain relief from sports-related injuries. All of The Medicine Man's CBD products are produced in the U.S., made from clean CBD-rich, organic hemp extracts which are lab tested and verified to be contaminant-free.
The Medicine Man's best selling product, Pure CBD Joint Juice, which is blended with pure essential oils. This topical rub helps with pain reduction, joint inflammation, and overall discomfort. The Medicine Man's Joint Juice also works on dog's for skin care which means it works great for your pet's relief from bites and allergies too.
For mess-free on-the-go applications use our bestselling Pure CBD Joint Juice Roller Bottle. This topical roller solution can be used for post-workout, sprains, pulls, arthritic conditions, and overall body pain relief for hard-to-reach areas. Another great Medicine Man product is our Pure CBD Lotion, a high-quality topical cream that aids in the relief of soreness, aches, pains, and also various skin conditions.
Our Pure CBD Gummies are delicious edibles that have been found helpful for relief from other types of health concerns such as stress, insomnia, anxiety, and average pain symptoms. These chewable gummies are also safe for kids.
The Medicine Man's Concentrated CBD Pain Relief Oil under the tongue drops come in great tasting flavors like Lemon Cake and Strawberry Fields. Concentrated CBD pain relief oil can help with all forms of spinal injuries, disc herniation, sciatica, pain reduction, inflammation, and overall discomfort. The concentrated higher doses also aid in both healing and pain management from injuries.
Whether you're young and healthy or fighting father time, pain does not discriminate. The Medicine Man products are dedicated to helping people heal by striving to provide pain relief from injuries and different types of health conditions with pure and natural alternatives. Visit purecbdpainmedicine.com for more information.
Buy now
AromaHemp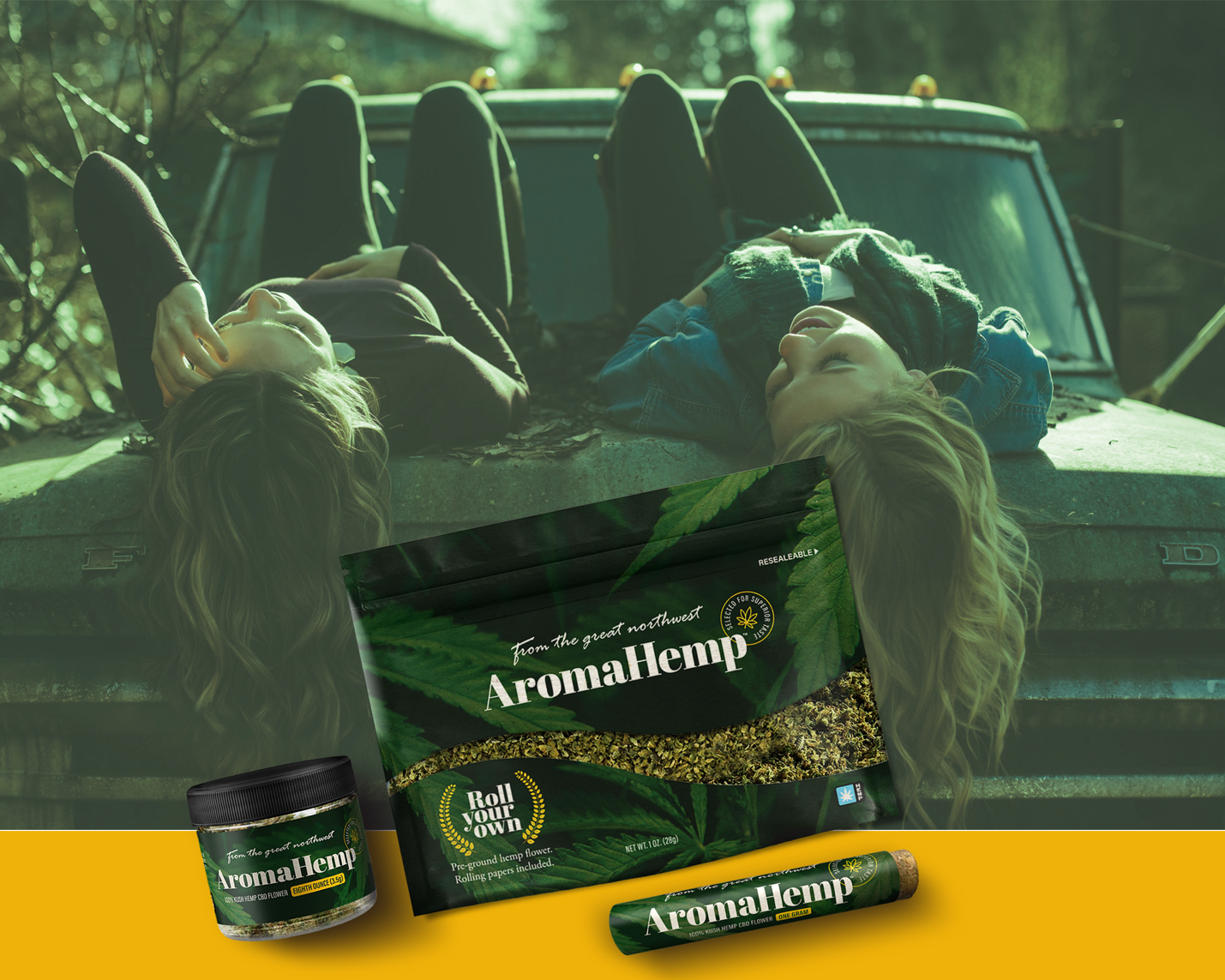 We believe that goodness flows from the inside out.  From carefully cultivated seeds sown and grown on small farms in the Pacific Northwest, to our slow-cure process, you can feel good about what's inside. AromaHemp's smokable and whole flower is naturally rich in CBD, which helps the stress of your day just fall away. Smoking CBD offers one of the fastest and most effective routes of delivery for use, meaning the effect of CBD can be felt in 2-5 minutes compared to 1-2 hours for edible CBD.  Hemp derived CBD is high in CBD and low in THC (less than 0.3% to be compliant with the 2018 Farm Bill which made hemp-based CBD products federally legal). So you get all the happy without the high. With no tobacco, nicotine, or additives, smoking hemp is also a healthier alternative to tobacco. 
AromaHemp's CBD pre-rolls come conveniently packaged in eco-friendly paper tubes with cork lids and are available in half gram or full gram sizes. High tech manufacturing and quality control ensures each pre-roll is perfectly packed for a consistent, smooth burn. Flower is also available in eighth and quarter ounce jars as well as pre-round roll your own pouches. Great for at the end of a long day or whenever you need a time out. 
Buy now
Focus V Carta
The Swagger man loves luxury and the finer things in life. This year, relax into your 420 with the Focus V Carta available at TVAPE. This ever-so versatile wax vaporizer offers features that the Ultimate Swagger Gentleman needs: removable 18350 batteries, quartz and titanium bucket-style heating chambers, USB-C charging and a convenient carrying case. One thing we love about the Focus V Carter is the 4 preset temperature control technology which allows users to ditch the torch, making this an easy to use, high-tech experience.
The Focus V Carta also offers the option of having removable batteries making the device not only easy to use, but portable. We also love that the Focus V Carta comes with a 3 year limited warranty with the manufacturer and a 1 month warranty on Atomizer with the manufacturer. Users will also notice improved flavour with the easy to clean quartz bucket and titanium bucket allowing for the best onset vapor production.
The Swagger team would like to note that the Focus V Carta provides a relaxing, clean and enjoyable experience from start to finish that will ensure the ultimate relaxation this 420.
15% Off Sitewide – Use Code "420"
Buy now
Mt. CBD Kombucha
Providing a luxury product does not have to come with a luxury price. Living your best healthy lifestyle does not require an overhaul to start. Let Mt. CBD Kombucha introduce you to the luxury of a truly functional beverage. Made from all-natural ingredients and brewed in the Rocky Mountains of Colorado, the focus was to Elevate Your Health! A Green tea base provides a clean energy clear of distractions. Patent extracted hemp-derived CBD relaxes both body and mind for an experience not soon forgotten. The holiday season is full of errands and expectations, family gatherings and stressful days at the office. No matter the occasion Mt. CBD Kombucha has the answer to the day's trials. Available in four delicious flavors: Blueberry Basil, Mint Lemon, Raspberry Lemon Ginger, and Blackberry Ginger there is no shortage of the combinations to enjoy. 
After a grueling workout, reward yourself with a bottle to prepare your body for optimal nutrient uptake to get the most out of your hard work.
The secret is in the Bioavailability of the CBD and the cleansing effect of Kombucha on your body's Digestive system that will leave you feeling healthier after one bottle.
The best medicine is preventative medicine and Mt. CBD Kombucha is a great source of both probiotics and antioxidants. 
For the adults in the room Mt. CBD not only tastes great but mixes even better! Try mixing it up and making some delicious creations of your own.
Whether you have a holiday party or are the chef on your dinner date Mt. CBD Kombucha has your back. 
This 4.20 don't just fit in, Elevate. 

Buy now